// update
Want something older? | Looking for my PhD?
Reid all about it, June 2014
Was asked by Reid School of Music at ECA to provide an illustration using some of my graphic scores for marketing purposes
Jmmmmmmmca Hmmmm, April 2014
Was kindly invited to participate in a discussion of mumbling as sound design in the BBCs adaptation of Jamaica Inn on BBC Radio Ulster's Arts Extra show... Here's an extract from the discussion
INTER/acting, March 2014
Made the long trip to Bangor to talk about graffiti and graphic scores at INTER/actions Symposium on Interactive Electronic Music. Paper examining graffiti using Smalley and Schaeffer in progress!
Bleep Forest, March 2014
Delighted to finally play some arpeggiating algo-rhythms with Marcin Pietruszewski in the basement of Edinburgh's Forest Cafe.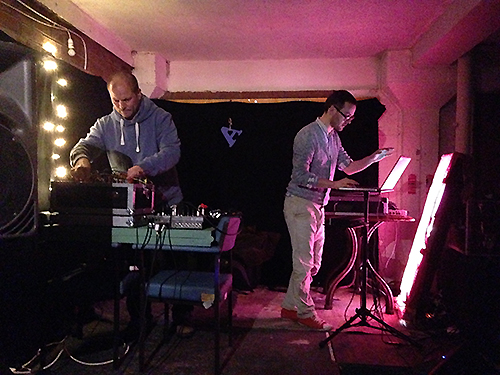 Image courtesy of Timo Preece
What is Sound Design?, November 2013
Performed Tramps and gave a talk on "Form(s) and Code(s)" at What is Sound Design? Symposium to celebrate 10 years of MSc Sound Design at Edinburgh. Thanks to Martin Parker for organising, and his continued support during my MSc, PhD and subsequently as a colleague at ECA
Image courtesy of Martin Parker
Seeing Sound, November 2013
Was kindly invited to present a paper at Seeing Sound at Bath Spa Uni on my current research into graffiti as graphic score
OCD/DC, July 2013
Clicks, fizz, flutter, splutter and hiss!
Modular synth, gestural control, micro edited monodic study
LLEAPP 2013, April 2013
LLEAPP 2013 from pixelmechanic on Vimeo.
Laboratory for Laptop and Electronic Audio Performance Practice, Inspace, University of Edinburgh, April 2013
The original Edinburgh LLEAPP conveners (Sean, Owen, Lauren and Jules) were successful in attracting funding to host a 2013 event, this time thanks to an ECA Career Development Grant, with additional support from New Media Scotland.
Read more at http://lleapp.blogspot.co.uk/
Crackl(ing) Box(es), October 2012
Another rare appearance of my modular and laptop in the same place at the same time, supporting Ben Vida
Images courtesy of Burhan Saeed
Boys will make noise (part 2), September 2012
A short, hard and fast duet with Christos Michalakos to 'welcome' new students!!
Christos Michalakos + Jules Rawlinson @ The Atrium from Christos Michalakos on Vimeo.
Compose Yourself for the BBC, September 2012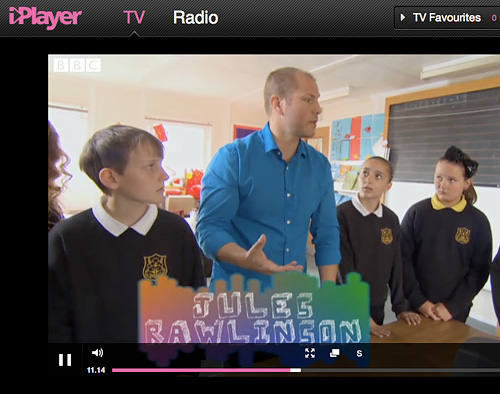 Invited to facilitate a segment of a BBC programme for schools "to inspire young learners to produce their own musical compositions, no matter their skill level or musical experience". My segment focused on 'Found Sound'.
Generally quite happy with seeing myself on telly, but focus on technical matters meant descriptive words went out the window. Had to follow up with an email to producers: "sounds can be warm, cold, crunchy, squelchy, soft, buzzy, bright, hard, hollow, ringing, sharp etc."
Lauren Hayes from Hakemira and MSO also did a segment!
Radiophonic Workshop, September 2012
Commissioned by The New Radiophonic Workshop to design and develop a Kafka Interactive for Will Self's digital essay on The Space. Did some chunking using some of the ByteArray methods in Flash (but also got it working as a demo in Web Audio API)
TR-I/O-FON at Dialogues May 12th 2012
I'll be appearing at Bongo Club with Dave Murray-Rust and Owen Green as part of our 'Fractured Dub Bricollage' laptop trio... More information on the Dialogues Website. MA and NeWt will be there too...
HAKEMIRA at Dialogues April 7th 2012
The first of two Dialogues shows for me this spring... this time with Lauren Hayes, Paul Keene and Christos Michalakos as HAKEMIRA
Live at Dialogues Festival by hakemira
Dr. Rawlinson, I presume?
I'm happy to report that as of 28 June 2011, I'm a Doctor! Here's a picture of £40 worth of gold lettering on a £20 box...

A Christmas present to myself!
After four (and a bit) long years I've finally submitted my PhD! Got it in just in time for Christmas too! (22.12.2010)
Thanks to all those who helped make it happen. Read more about it!
// download
PhD Files
MaxMSP Patches
Recent work
Film Foley
Stills Sound Workshop
Contact