// update
Want something older? | Looking for my PhD?
Bleep Forest, March 2014
Delighted to finally play some arpeggiating algo-rhythms with Marcin Pietruszewski in the basement of Edinburgh's Forest Cafe. Hope to post audio shortly!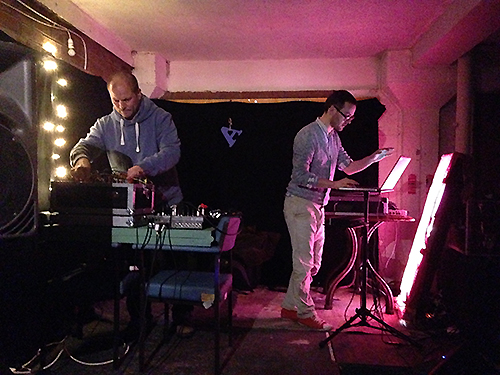 Image courtesy of Timo Preece
Seeing Sound, November 2013
Was kindly invited to present a paper at Seeing Sound at Bath Spa Uni on my current research into graffiti as graphic score
OCD/DC, July 2013
Clicks, fizz, flutter, splutter and hiss!
Modular synth, gestural control, micro edited monodic study
LLEAPP 2013, April 2013
LLEAPP 2013 from pixelmechanic on Vimeo.
Laboratory for Laptop and Electronic Audio Performance Practice, Inspace, University of Edinburgh, April 2013
The original Edinburgh LLEAPP conveners (Sean, Owen, Lauren and Jules) were successful in attracting funding to host a 2013 event, this time thanks to an ECA Career Development Grant, with additional support from New Media Scotland.
Read more at http://lleapp.blogspot.co.uk/
Crackl(ing) Box(es), October 2012
Another rare appearance of my modular and laptop in the same place at the same time, supporting Ben Vida
Images courtesy of Burhan Saeed
Boys will make noise (part 2), September 2012
A short, hard and fast duet with Christos Michalakos to 'welcome' new students!!
Christos Michalakos + Jules Rawlinson @ The Atrium from Christos Michalakos on Vimeo.
Compose Yourself for the BBC, September 2012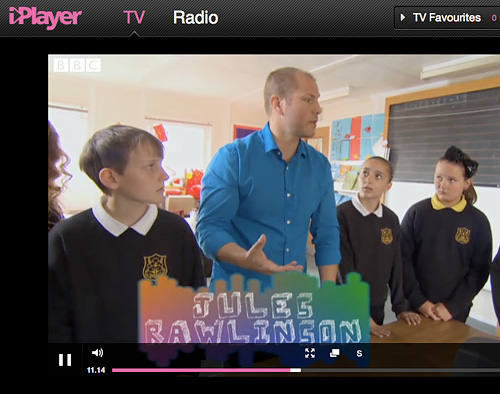 Invited to facilitate a segment of a BBC programme for schools "to inspire young learners to produce their own musical compositions, no matter their skill level or musical experience". My segment focused on 'Found Sound'.
Generally quite happy with seeing myself on telly, but focus on technical matters meant descriptive words went out the window. Had to follow up with an email to producers: "sounds can be warm, cold, crunchy, squelchy, soft, buzzy, bright, hard, hollow, ringing, sharp etc."
Lauren Hayes from Hakemira and MSO also did a segment!
Radiophonic Workshop, September 2012
Commissioned by The New Radiophonic Workshop to design and develop a Kafka Interactive for Will Self's digital essay on The Space. Did some chunking using some of the ByteArray methods in Flash (but also got it working as a demo in Web Audio API)
TR-I/O-FON at Dialogues May 12th 2012
I'll be appearing at Bongo Club with Dave Murray-Rust and Owen Green as part of our 'Fractured Dub Bricollage' laptop trio... More information on the Dialogues Website. MA and NeWt will be there too...
HAKEMIRA at Dialogues April 7th 2012
The first of two Dialogues shows for me this spring... this time with Lauren Hayes, Paul Keene and Christos Michalakos as HAKEMIRA
Live at Dialogues Festival by hakemira
HAKEMIRA @ Dialogues Festival I from Christos Michalakos on Vimeo.
Dr. Rawlinson, I presume?
I'm happy to report that as of 28 June 2011, I'm a Doctor! Here's a picture of £40 worth of gold lettering on a £20 box...

A Christmas present to myself!
After four (and a bit) long years I've finally submitted my PhD! Got it in just in time for Christmas too! (22.12.2010)
Thanks to all those who helped make it happen. Read more about it!
Boys will make noise
'Finished' editing and otherwise polishing a studio 'guide' for a piece for Triofon, now I just have to score it!
Jr radiosilence mstr by pixelmechanic
Boys will build toys
First up, here's my set supporting Fourcolor and Hervé Boghossian @ Grind Sight Open Eye, June 21st 2010.
Jr gsoe voodoo 210610 by pixelmechanic
Since I'm trying to avoid buying new gear, I built myself a new sequencer engine for one section of my gig. It's a loose take on both Boiingg and Bupp!!, with some simple tricks for reversing playback of a trigger lane. Here's a quick demo...
jr.bquencer.mxb from pixelmechanic on Vimeo.
Snap, Pop & Cracklebox @ UniqueBeats - April 2010
Played an OK set at UniqueBeats at the Roxy/Bowery, with stomach churning bass from me and Sean and some great crackle and fizz mangling from Lauren. Recording was a bit clipped (as always!), but got some good video. Sean is rocking his ASys rig and MS10, Lauren's got her Jen and Steim Cracklebox, and as ever I'm playing whatever's currently in my mongrel modular, with emphasis on Livewire AFG and MakeNoise QMMG.
Cracklebox vs Monosynth Orchestra, Unique Beats from ElleEsAich on Vimeo.
Ongoing Dialogue(s) - March 2010
Kept up my record of playing at the Dialogues Festival of Electronic Music with a performance of Mute|Solo (among others) by me, Sean, Owen and Lauren working from my graphic score. You might also want to check our improvised 'Let's get out of here!' for a comedy ending!
Mute | Solo from pixelmechanic on Vimeo.
40 not Out (of the Box) - November 2009
Celebrated my 40th by performing at the Out Of The Box event organised by Owen at UCL.
Played a piece of mine, one of Sean's plus some improv. Here's something starring me and Owen, but not Dave M-R, hence the title!
Two Thirds Of A Good Thing from Sean Williams on Vimeo.
Mute|Solo - Oct 2009
The previously mentioned piece for sampled strings came out really well, and provided me with some new tools and moves. The CD project as a whole looks and sounds great and many of the pieces made it on to Radio 3 including some live performance by me!
You can listen to the piece in the player on the right
Look before you LLEAPP! May 2009
Our research group scored some funding to hold a Laboratory for Live Electronic Audio Performance Practice, inviting practitioners from UEA, Newcastle, SARC and UCL to Edinburgh over 3 days in May, closing with a performance at the Bongo Club.
LLEAPP: Owen Green, Jules Rawlinson, Jamie Thompson from ElleEsAich on Vimeo.
// download
PhD Files
MaxMSP Patches
Recent work
Film Foley
Stills Sound Workshop
Contact